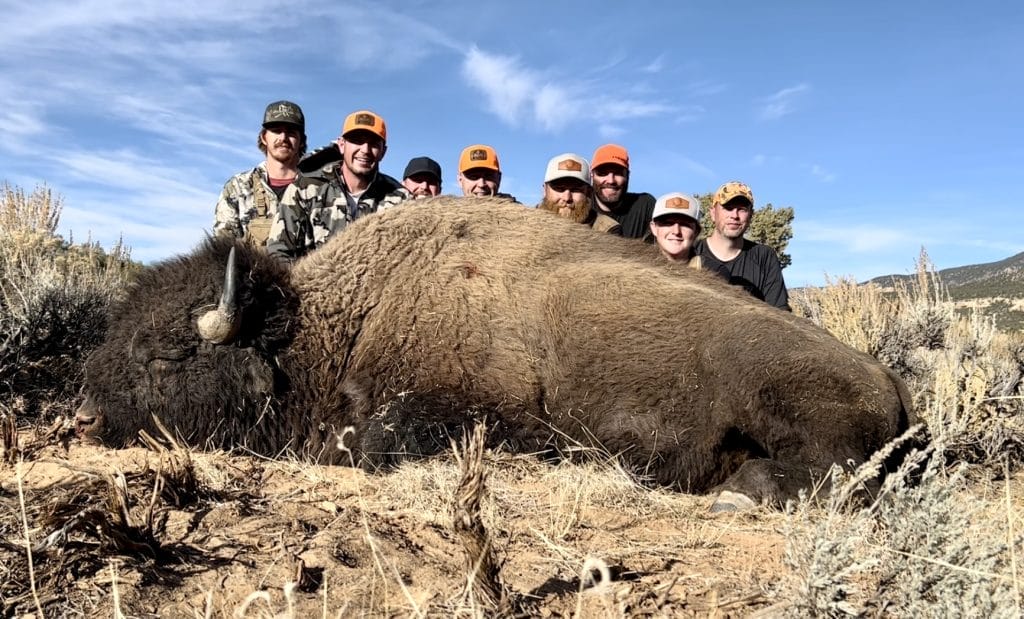 Henry Mountain bison hunts are truly a once in a lifetime experience. As one of the most remote mountain ranges in Utah you won't find another place quite like it. The Henry Mountain's herd has currently estimated a population of 350 and is one of only 4 genetically pure bison herds left in existence.
The herd roams from the peaks of Mount Ellen and Pennell at 10,000 feet all the way to the desert floor that extends west towards Capital Reef National Park at 5,000' in elevation.
The Henry's have always been a special place to me. With almost two decades of experience on the mountain I have gotten to know it very well. It is my pleasure to be offering guided bison hunts here and help you achieve your goals as a sportsmen/hunter.
Listed below are the different hunt packages we offer for this once in a lifetime experience. If you are wanting something that you don't see listed please don't hesitate to ask. We are happy to build a custom hunt package to suit your needs.
You will notice all of our advertised hunts come with 2 guides. Not only does this help us cover more area, it's also critical for the difficult pack out these hunts often require. We try to film most hunts so clients can enjoy the adventure for years to come.
Bison Hunt packages
*Our premium package
Traditional western style hunts done off horse back.
For this particular hunt I am looking for clients who want to take a more traditional approach to their hunt and ride horses/mules to our backcountry camp in a remote part of the unit. This ride is about 6 miles and is not difficult terrain. This unique location allows us to hunt several directions and return to camp every night. I (JT) will personally be your guide on this hunt.
Here you will find a well equipped camp with everything we need for a comfortable week of hunting. This includes a wall tent kitchen with lounge area, We will get with you on a preferred food menu and have pre planned western meals cooked by dutch oven or over an open fire. For sleeping you will be provided a wall tent for you and your guests. This includes a thick canvas bed roll and 2-3 large cots for a comfortable night sleep. Propane heat is provided for cold winter nights. In the event we get on a herd and end up far away from camp we also have a portable teepee camp we take with us each day so we can stay on their trail if we need.
This hunt comes with 2 guides for 7 days, additional days are available. (meals and lodging included)
$7,750 trophy bull hunts
$7,000 cow hunts
$750 observer fee includes extra horse and meals
***Our standard hunt package 
On this hunt we focus on a different part of the mountain where we use trucks and side by side UTVS.
We will drive to several vantage points each day and glass for herds. Often times locating them several mile's away. Once a herd is located we will plan a stalk and go after them, horses will be on stand by for pack out if needed but not typically used for the hunt
This is a 6 day hunt with the option to go more. This hunt includes 2 guides and transportation, Meals and lodging not included but can be provided upon request.
$7,000 bull hunts
$6,500 cow hunts
This hunt allows some flexibility for lodging options, most hunters choose to stay in town at a local motel. You may also bring your own camper or RV and we can show you the best place to camp and be there to take you out each day.
Please click the links below to learn more about our bison hunts on the Bookcliff Roadless and Bookcliff Bittercreek units-
Bookcliff Roadless Bison Hunts
Bookcliff Bittercreek Bison Hunts