Join me, owner / houndsman JT Robbins on the adventure of a life time. I enjoy all aspects of hunting, but my true passion is our Guided mountain lion hunts. Six months out of the year you will find my team and I roaming the foothills of western Colorado and eastern Utah searching for the majestic mountain lion that call this country home.
I breed and train my own strain of mountain lion hounds that are cougar catching machines! This gives us the ability to catch cats anytime, anyplace, in almost any condition. We are fortunate enough to live on the border of Colorado and Utah. I am a licensed outfitter in both states. This gives us a very large area we can hunt, covering 7 game management units in Colorado as well as a large portion of eastern Utah. We hunt nearly 5 days a week 6-8 months out of the year to ensure our hounds are as good as they can be.
Hunt Options-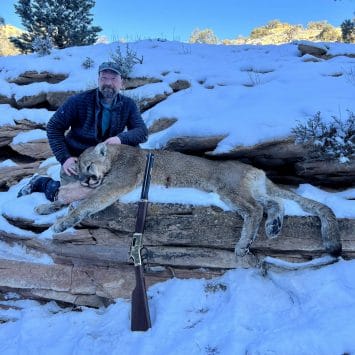 We offer 2 different types of mountain lion hunts:

1. Winter cougar hunts run November thru mid March
2. Dry ground hunts that run Mid March through early May.

Please click links below to learn more about our Lion hunts.
**we will notify you prior to the start of your hunt on which state to purchase a tag from.
If the conditions are right, once you harvest your first cat you will be given the opportunity to harvest a second cat in the other state if you wish to do so. **Please inquire for more details**
We understand booking a hunt comes with a lot of tough decisions. Feel free to call us with any questions you have, we are happy to provide a list of references upon your request.
Please take a minute and browse all of our pictures and videos. Call us with any questions you have!!!
*Tags in most of our areas are available over the counter with no need to apply in a draw.
*** We have options available to take two hunters at a time. Please let us know ahead of time so we can plan accordingly.***

One thing that we feel sets our operation apart is being fully prepared for your hunt. When it comes to guided mountain lion hunts that means quality equipment. Covering country as efficiently as possible is the key to consistent success. The terrain and conditions vary greatly on each hunt, with that, our means of transportation will also vary. You can expect anything from off-road equipped Toyota trucks, snowmobiles, a side by side with tracks, and in some cases horses/mules. No matter what mother nature throws our way we are prepared for it.
---