Colorado Unit 61 elk hunting is hands down some best in the state. This is a great unit for harvesting a respectable bull. Unit 61 has the best bull to cow ratio of all the units we hunt. This allows for a long active rut. In a typical week of hunting we will typically see multiple bulls as we search for larger trophy elk. ​We take a great deal of pride in trying to harvest the best bulls the unit has to offer. As a client of ours you will receive monthly updates during the summer showing you what we have found during our scouting trips.
We have a lot of terrain options and hunting techniques to accommodate hunters of almost any physical condition. Transportation during your hunt will vary from trucks, ATVs, and UTVs. Horse accessed hunting is also available upon request. Hunting will vary from you and your guide intensively glassing to locate elk, then using spot and stalk techniques, or calling/bugling setups to get you into comfortable shooting distances. We also conduct some hunting from blinds and tree stands over active wallows and water sources.
We advise clients to practice shooting up to 400 yards to be fully prepared for longer shot opportunities that commonly present themselves in this area.
Lodging is a modern wall tent camp located at 9,000ft in the heart of elk country. Camp is complete with hard wood floors, high end cots, and a generator for electric power in the mornings and evenings. Full kitchen with cook and home made meals are provided before and after each day of hunting. We also provide sack lunches for the field.
You will appreciate our hard work ethics and first class western hospitality.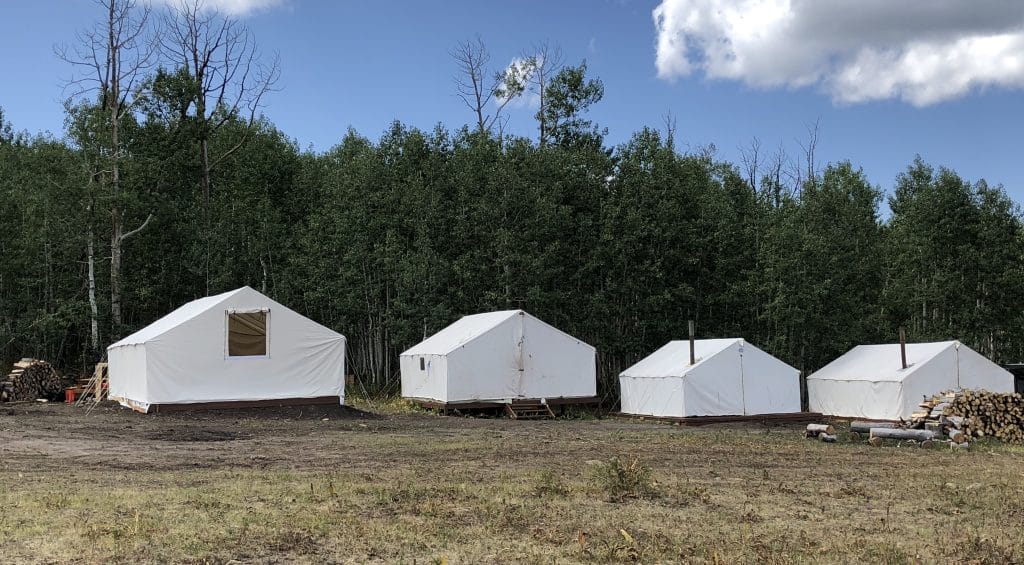 Standard hunts are fully furnished, 1 on 1 guided 5 day hunts.
This includes guiding, meals, lodging, meat pack out and trophy care. Any seasons that are longer than 5 days, you can extend your hunt on a day by day basis after your original 5 days are over.
Most seasons we allow hunters to arrive two days prior to the start of your hunt. This allows you to get settled in and spend one full day scouting with your guide before your hunt starts.

We will be offering a semi guided hunt option.
This package will include-
Lodging and meals for 5 days (breakfast, sack lunch, and dinner provided by our cook). This will also include a map of the area and includes ideas on where to hunt. A guide will be available every night to check on you and help you plan the next days hunt. We will also bring our mules to help you with meat pack outs when you are successful.
Call us for more information! 970-773-4898
*Please keep in mind this is a draw unit and requires years of applying to draw.
**Bear can also be added to your elk hunt, we often tag out early on elk and get many opportunities to harvest a bear during the remaining days of your hunt. If we don't harvest a bear there is no additional charge.
**Please give us a call for pricing and more information!!
*Archery*
Sept. 2nd-30th, 2023
---
*Muzzleloader*
Sept 9th-17th, 2023
---
*Rifle*
1st season – Oct. 14th-18th, 2023
2nd season – Oct. 28th-Nov. 5th, 2023
3rd season- Nov. 11th-17th 2023
4th season- Nov. 22nd-26th, 2023
5 day hunts
---
**Please call for pricing and additional information on rifle and muzzleloader hunts**
** We also offer a packing service in both unit 61 & 62 **