The Bookcliff Roadless bison hunt is truly an amazing experience. Over the last few years it has become like a second home to me and my family. Every summer we spend many days riding this country, working mules while scouting the elk, and bison herds. Nestled high in the Bookcliffs Mountain range from 8000-9500 feet, this area consists of roughly 50,000 acres of roadless mountain habitat. Here you will find big canyons with evergreen forests, grassy bottoms, and water flowing everywhere. Most of the hunts we conduct fall under our "Wild West" hunt package where I (JT), am personally in camp hosting and guiding. Here are a few details about our Bookcliffs Roadless bison hunts.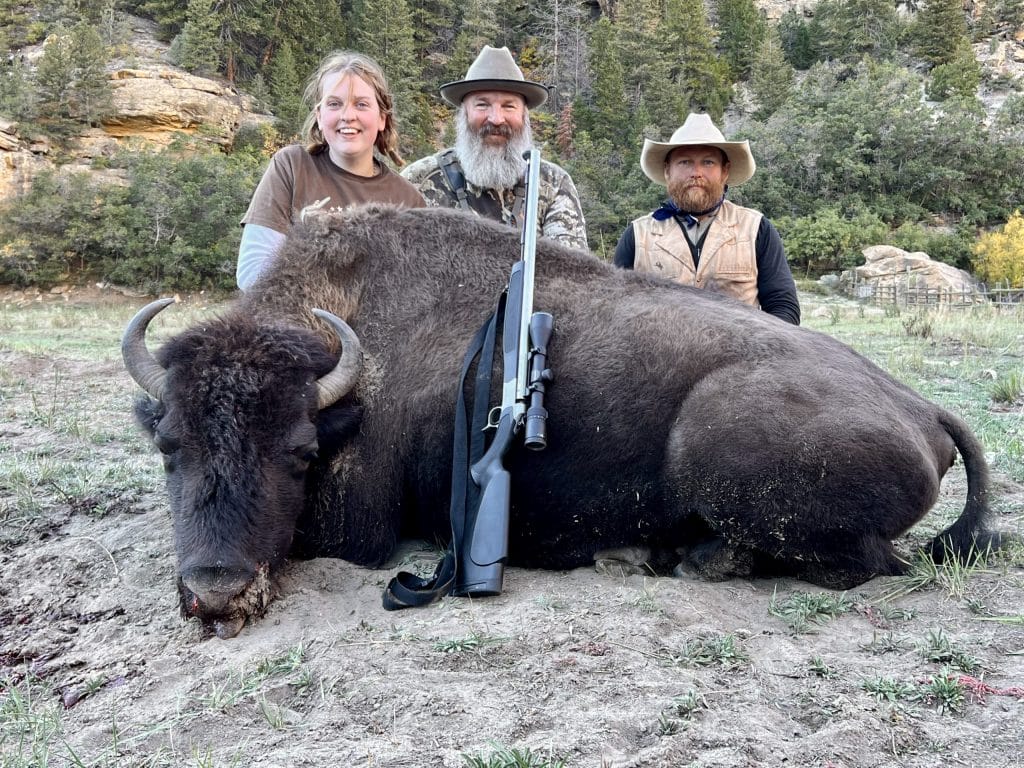 Our base camp is about an 8 mile ride from the truck. We will have both riding and pack mules to escort you and your gear into camp. Here you will find a wall tent camp with all the luxuries needed for a comfortable week of hunting including chairs, cots, clothes line, and a complete backcountry kitchen for our meals. For the most part we will return to this camp every night. There are times when the herds have shuffled around the unit and we find ourselves traveling further than normal. When this happens we have a very efficient spike camp we take with us in the event we need to camp somewhere new. During these situations you will find yourself sleeping in a range Teepee with a canvas bedroll like the ones used by traditional bison hunters of long ago. On this trip you will also experience true western cooking with cast iron cookware, coals, and open fire. We will be in touch with you prior to hunting to make sure we have meals prepared to your likings.
Our premium "Wild West" hunt package includes the following-
1 on 1 guided hunt plus a wrangler to help with stock.
Unlimited days, hunt til we kill or season ends.
Meals and lodging at our back country wall tent camp.
$7,750 Bull hunts $7,000 cow hunts. $750 observer fee
**New for 2023 we are offering what we call the "gentleman" hunt package
This is a 1 on 1 guided hunt for 6 days $6,250 bull hunts $6,000 cow hunts
Unlike our "Wild West" package where we ride into base camp, this option allows clients to hunt from the trail head with their guide and return to the trucks every night. This will typically end in less overall horse riding to complete the hunt. It also allows clients to enjoy camp with friends and family who may not want to participate in the hunting and horse riding but still be a part of the hunt.
Clients will be expected to provide their own meals and lodging at trailhead. We will provide the guiding, riding animals, and necessary pack animals needed for a successful hunt.
$1,000 if we provide meals and lodging. Lodging would be a 14×16 wall tent with cots and Canvas bedroll, clients would need to provide a sleeping bag.
Please click the links below to learn more about our bison hunts on the Bookcliff Bittercreek and Henry Mountain's units-
Bookcliff Bittercreek Bison Hunting
Henry Mountain's Bison Hunting