The Bookcliffs is among one of Utah's best trophy elk hunting areas.
Based out of Mack, CO we are very fortunate to have the Utah Bookcliffs located right in our back yard. As a smaller family ran operation we only take a limited number of hunters in this area. This allows us to focus on providing a high-quality trophy hunt where we can spread out in search of the larger bulls in the unit. The Bookcliffs elk hunts are broke up into two units. The bitter creek and the roadless units.

Little Creek Roadless Area
A total of 57,048 acres prime time elk habitat. As the name mentions this area is totally road less and can only be accessed by foot or horse back from two separate trail heads. We have a great team of horses and mules to take on the task.
Camp is a basic wall tent camp located in the heart of the road less area. The ride in, is on a good trail that will only take a few short hours. We never take more than two hunters into this area per season. This gives us plenty of room to spread out and search for the largest bulls in the area. Aside from guides, camp will also have a wrangler to help with stock, scout for animals, and pack meat out after we are successful. We ask that hunters meet and ride in two days prior to the hunt. This allows adequate time for us to get settled in as well as spend one final day scouting before the hunt starts.
Guided Hunts are fully furnished and 1 on 1 guided. 1 day scouting, 5 days hunting, and 7 nights lodging and meals included at our back country wall tent camp.    $7500
*Hunting licenses not included*​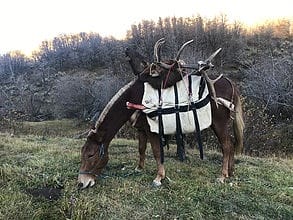 Bitter Creek
Although not as remote as the Roadless area, the Bitter Creek unit is still an awesome place to chase trophy elk and can be drawn with a few less points. There is a good opportunity for bulls in the 300-330 range and a few larger bulls roaming in the more secluded areas of the unit.
This unit has good road access and is a great option for hunters that lack the physical abilities to hunt in other units where the physical demand is much higher.
Lodging on this hunt will be out of a nice camp trailer with all meals included. You are also welcome to bring camping accommodations of your own. Remember it's a long trip to town once we have arrived on the mountain.
Our standard hunts are 5 day, 1 on 1 guided, and fully furnished. $7500