Dry ground hunting offers a unique lion hunting experience. It is one of the most challenging yet rewarding hunts we offer. However, we typically recommend this hunt for people who have already killed a cat during our winter hunts or hunters who are seeking the challenges faced with dry ground hunting. This type of hunting lets you experience how a hound truly works and lets you personally see the race far more then winter hunting allows.
Although we train dogs year round and have a proven track record for successful dry ground hunts, there are challenges that will always make dry ground hunting have a slightly lower success rate than our winter hunts. Clients who have experienced both types of hunting, say that the experience they have on a dry ground hunt far surpasses the experience of our winter hunts. We definitely recommend every sportsman to try it at least once during their hunting career.
A typical day of hunting will start before daylight cutting roads for tracks from truck and atv's. Followed by riding horses on short loops into an area we think a cat may be hanging out (If you are looking for a full on horse hunt we have a few options for this as well).
Your hunt can be conducted according to your physical abilities and desires.
We can mix and match how many days we spend riding horses verses in the trucks.
We also offer a traditional horse back lion hunt that is a 3-4 day horse ride from truck. Where we take pack mules and sleep in spike camps as we hunt our way across a remote roadless area in south eastern Utah.
This is the ultimate western experience in some of the neatest country around. Aside from great cat hunting you are likely to encounter wild horses, free roaming buffalo, Indian pictographs, and numerous deer and elk.
If you own your own horses you are welcome to bring them or we are happy to set you up with a mule or horse from our ranch.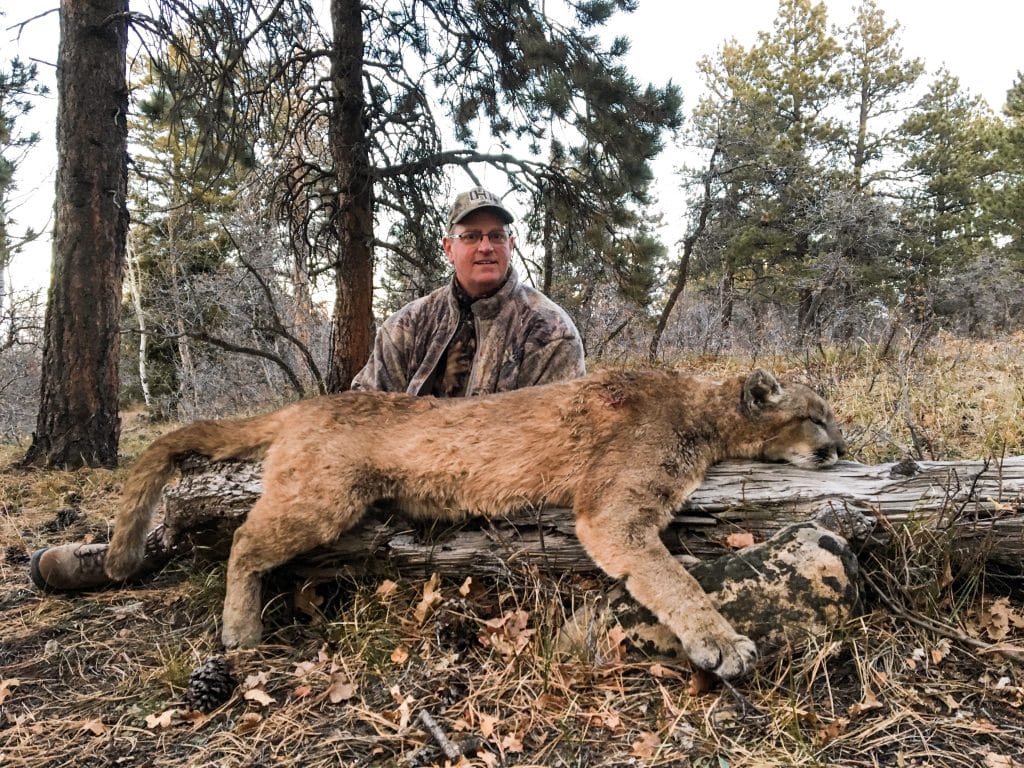 *** A little info on traditional horseback hunting and how it is successful.***​
When horseback riding, we ride deep into cougar country following the travel ways and scrape lines left behind by giant toms as they roam around in search of promising females. A scrape is a way that cougars use to communicate to one another about each other's territory and boundaries. Scrapes are also used as a calling card to bring breeding pairs closer together. Not an activity that happens as regularly during the winter months. Having keen knowledge of these special behaviors and the areas they take place in gives us a huge advantage in locating and harvesting these magnificent creatures.
This is without a doubt our favorite hunt here at ALLOUT. It is hard to describe the pleasure one gets watching his hounds learn and progress. Nothing puts their skills to the test like free casting them off horse back in bare ground conditions. They learn to work as a team by fanning out and individually searching for the smallest amount of cougar scent. Then they ban together, noses to the ground helping each other move the track forward as fast as they possibly can without making mistakes. Often times this happens in conditions where there is no visible sign for man to see. This leaves us nothing to rely on but the natural instincts of their noses. No other time of the year can you experience this type of spectacular hound work.
Call us today to book your guided cougar hunt!
Mid March- Mid May
(some hunting conducted off horses and mules)
5 days fully furnished with 2 guides
$7,500 per hunter
**Hunting licenses are not included**
Colorado Mountain Lion ExamUtah Mountain Lion Exam
Book your guided cougar hunt:
Call
Email
Learn about our winter cougar hunts.