Our winter guided cougar hunts run from late November until mid March.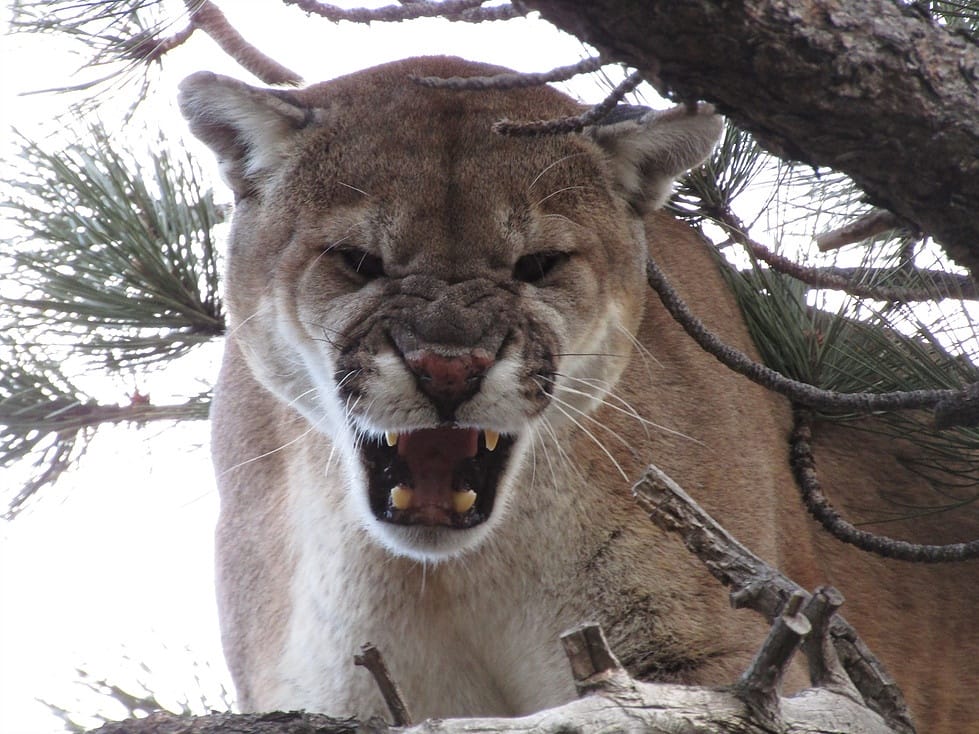 Our guided cougar hunts are conducted with trucks, snowmobiles, and other off highway vehicles. We start our days very early driving roads looking for mountain lion tracks. Once we have a track located, we release hounds and catch your cat. One thing that makes our hunt unique is there is two guides on every hunt. We live in an area with a high cat population but it still requires covering lots of ground to find them.
Using GPS technology we track the hounds and precisely locate where they treed your trophy. We then determine the easiest route to get to them. Hikes can be very short but can also range 1-2 miles and 750+- feet in elevation.
Due to the large area we hunt lodging will vary from hunt to hunt. Most hunts will be based out of our home where clients will have their own private bed, bath and living room area. Weeks where we choose to travel to hunting areas away from home, lodging will based out of a motel in the nearest town. Some areas we will stay in a rustic modern cabin with most of the luxuries of home. ​
To best fit the needs of all our clients our winter snow hunts have two options (scheduled & on call)
Please read over each option before deciding what hunt is right for you.**
package #1 On call lion hunts
This is our premier hunt for mature tom lions with a 90% success rate.
This option may require some flexibility in your schedule. When you book this hunt we will give you a rough idea on when you hunt will be and will keep you updated as the season progresses. As the time nears we will call you when conditions are right. This may only be a couple days notice, ( usually a weeks notice is given) If you are unavailable when we call we will simply put your name back on the list and call the next person in line.
This is a fully furnished 6 day hunt, complete with 2 guides, meals, and 5 nights lodging at our ranch in Mack, Colorado. (lodging not included if we travel and hunt from a motel) price is $8,500 per hunter.
2. Scheduled hunts (This option is recommended for clients who need to plan for exact dates far ahead of time)
This hunt is conducted much like our on call hunts other then your hunt is scheduled for selected dates at the time you book and we hunt despite what nature throws our way. We typically have decent snow to hunt from Dec through early March. It varies every year what month conditions are best but you will see by browsing through our photos we have maintained a very high success rate all winter long.
5 Day Fully Furnished Hunt– $7,500 per hunter
Includes 2 guides on each hunt, meals and 6 nights lodging included. (If staying at our ranch)
(80% opportunity on mature cat)
​We operate in both Utah & Colorado (we will advise you on what tag to purchase the week before your hunt )
*Hunting licenses not included*
Colorado Mountain Lion ExamUtah Mountain Lion Exam
Book your winter cougar hunts:
Call
Email
Learn more about our dry ground cougar hunts.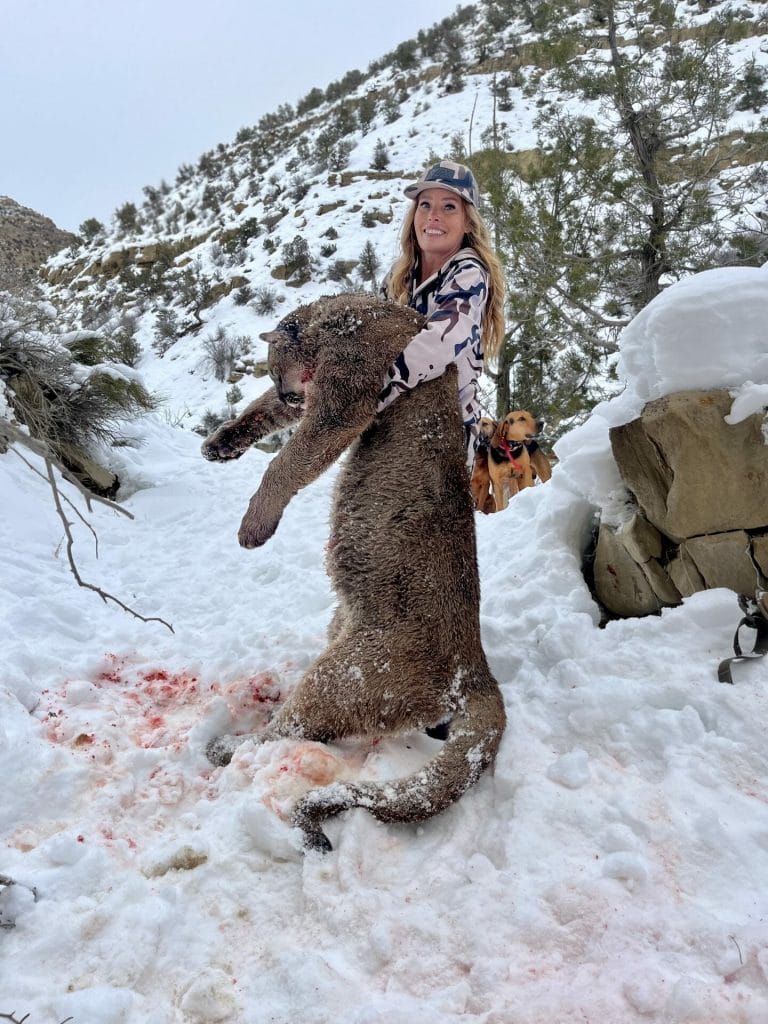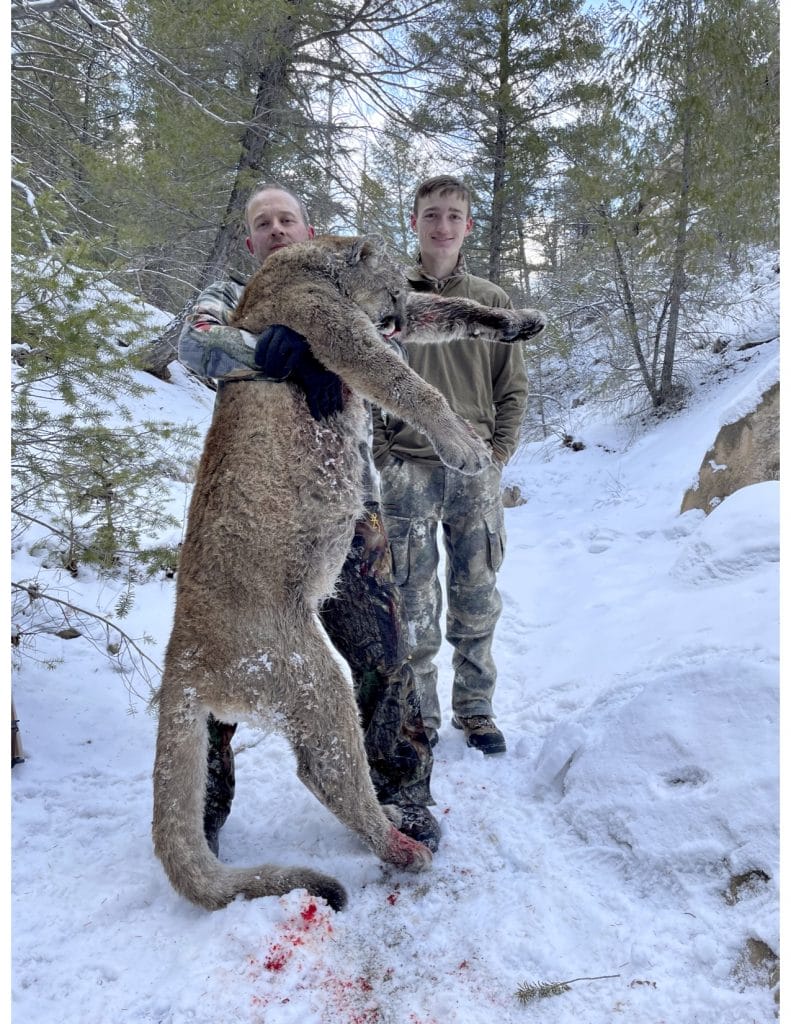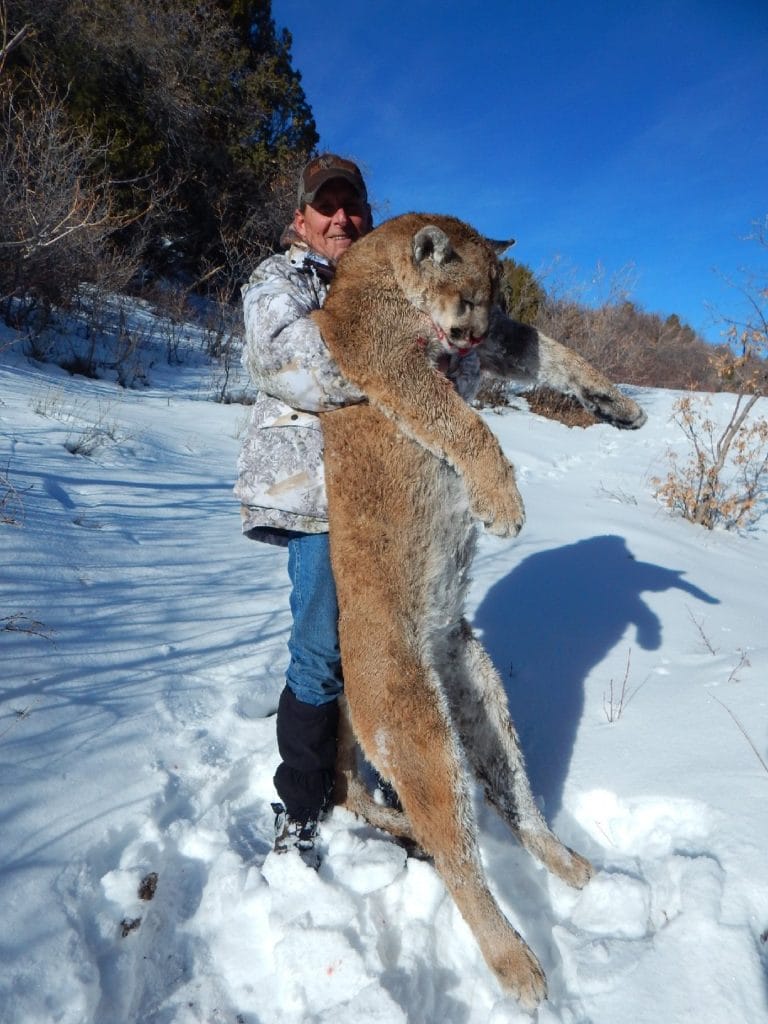 To bag the best cats in the winter, hunt ALLOUT!